Detalhes

Escrito por

Super User

Categoria: Artigos Base
Acessos: 540
No 3º FGA, vamos!
Detalhes

Escrito por

Super User

Categoria: Artigos Base
Acessos: 441
Arte para o Fórum Geral Anarquista... vamos!
Detalhes

Escrito por

Solidariedade Internacional

Categoria: Artigos Base
Acessos: 574
Republica da Belarus ou Bielorrússia é um país do leste europeu, sem saída para o mar e 23 anos debaixo da ditadura de
Aleksandr Lukashenko,
amigo e admirador de outro ditador, Vl
a
dimir Putin
(Rússia)
.
Ambos, oriundos do regime totalitário da União das Republicas Socialistas Sovieticas (URSS)
atuam com mão de ferro e mantém práticas politicas e economicas do antigo regime em suas administrações ditatoriais.
Lukashenko mantém a Bielorrússia sobre capitalismo de estado,
herança da extinta URSS
.
Detalhes

Escrito por

Anarchist Black Cross Dresden

Categoria: Artigos Base
Acessos: 739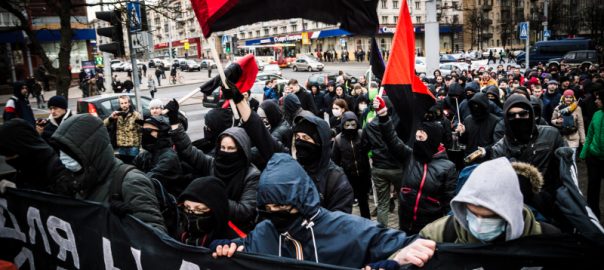 Hoje (15 março 2017) em três grandes cidades da Bielorrússia - Minsk, Mogilev e Grodno - as pessoas tomaram as ruas protestando contra as tentativas do governo para coletar impostos sobre os desempregados (detalhes da história AQUI). Em Minsk, as manifestações conseguiram reunir mais de 1 500 pessoas, em Mogilev e Grodno 1000 cada. Estes são os maiores protestos que essas cidades têm visto em décadas. Vale a pena mencionar que a maioria dos manifestantes está longe de grandes potências políticas no país e não alinhar com qualquer fluxo de oposição, prefiro preferir apontar as duras condições econômicas e os resultados de 24 anos de Lukashenkos regra.
Leia mais:Dezenas de anarquistas detidos na Bielorrússia após protestos contra o governo
Subcategorias
The Joomla! content management system lets you create webpages of various types using extensions. There are 5 basic types of extensions: components, modules, templates, languages, and plugins. Your website includes the extensions you need to create a basic website in English, but thousands of additional extensions of all types are available. The Joomla! Extensions Directory is the largest directory of Joomla extensions.
Components are larger extensions that produce the major content for your site. Each component has one or more "views" that control how content is displayed. In the Joomla administrator there are additional extensions such as Menus, Redirection, and the extension managers.
Modules are small blocks of content that can be displayed in positions on a web page. The menus on this site are displayed in modules. The core of Joomla! includes 24 separate modules ranging from login to search to random images. Each module has a name that starts mod_ but when it displays it has a title. In the descriptions in this section, the titles are the same as the names.
Content modules display article and other information from the content component.
User modules interact with the user system, allowing users to login, show who is logged-in, and showing the most recently registered users.
These modules display information from components other than content and user. These include weblinks, news feeds and the media manager.
Utility modules provide useful functionality such as search, syndication and statistics.
Navigation modules help your visitors move through your site and find what they need.
Menus provide your site with structure and help your visitors navigate your site. Although they are all based on the same menu module, the variety of ways menus are used in the sample data show how flexible this module is.
A menu can range from extremely simple (for example the top menu or the menu for the Australian Parks sample site) to extremely complex (for example the About Joomla! menu with its many levels). They can also be used for other types of presentation such as the site map linked from the "This Site" menu.
Breadcrumbs provide users with information about where they are in a site.
Templates give your site its look and feel. They determine layout, colours, typefaces, graphics and other aspects of design that make your site unique. Your installation of Joomla comes prepackaged with three front end templates and two backend templates. Help
Here is where I will blog all about the parks of Australia.
You can make a blog on your website by creating a category to write your blog posts in (this one is called Park Blog). Each blog post will be an article in that category. If you make a category blog menu link with 1 column it will look like this page, if you display the category description then this part is displayed.
To enhance your blog you may want to add extensions for comments, interacting with social network sites, tagging, and keeping in contact with your readers. You can also enable the syndication that is included in Joomla (in the Integration Options set Show Feed Link to Show and make sure to display the syndication module on the page).
These are my photos from parks I have visited (I didn't take them, they are all from Wikimedia Commons).
This shows you how to make a simple image gallery using articles in com_content.
In each article put a thumbnail image before a "readmore" and the full size image after it. Set the article to Show Intro Text: Hide.
We search the whole countryside for the best fruit growers.
You can let each supplier have a page that he or she can edit. To see this in action you will need to create a user who is in the suppliers group.
Create one page in the growers category for that user and make that supplier the author of the page. That user will be able to edit his or her page.
This illustrates the use of the Edit Own permission.